Version 6.1.10.1
(32 and 64 Bit)

Version 5.9.5.3
(32 and 64 bit)
---
---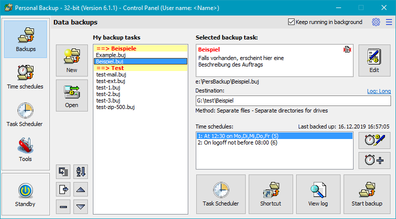 Version 6 provides all familiar functions of Version 5, and offers a Control Panel (see screenshot at upper right) as an important new feature. The panel presents a summary of all important information in a clearly-arranged form. Just a few clicks are required to change the configurations and start your backups. The new functions at a glance:
Notes on version 5.9: This Version is still available, but there will be no further development. Due to this, an update to version 6 is recommended. All existing backup tasks (buj-files) are fully compatible.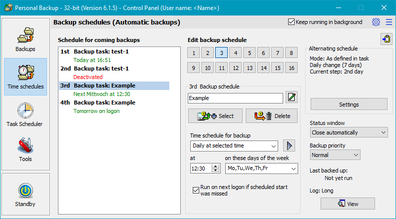 The 32-bit version runs under Windows 7, 8 and 10 (32- & 64-bit), Windows Vista, Windows XP (with some limitations - see here), the 64-bit only under Windows 7, 8 and 10 (64-bit) and the corresponding Windows Server versions.
English, German, Dutch, French, Spanish, Italian, Portuguese, Russian and Hungarian can be selected as desktop languages for Version 6. The help files are available in English and German The new version has been tested extensively but nevertheless it can be that some functions or a combination of particular options will not work properly. If so, please report such instances to me.
Notes on installation: Version 6 can be installed in parallel to Version 5. On first start, all settings from the previous version will be inherited and saved in its own directory (%APPDATA%\PersBackup6\). All backup tasks (buj-files) are fully compatible but while running any automatic backups, make sure that they are activated in only one of the two versions.
Notes on backups using Windows Task Scheduler: Each scheduled task created under Version 5 must be changed manually to run under Version 6. To do this, just call the Task Scheduler from inside the program, double-click the task to be changed and click the Next button to retain all settings. A final click on the Done button will update the selected entry automatically to be run using Version 6.

Download Version 6.1.10.1:
* Notes about the OpenPGP signature

If you have installed Gpg4Win (e.g. for encryption of mails) on your system, you can use this program to verify the Personal Backup downloads. Just download the signature file associated to the respective version (see above) and store it in the same directory as the setup file. Then open the context menu of this file in Windows Explorer or any other file manager by right-clicking and select Decrypt and verify.
If the required certificate has not yet been registered in Gpg4Win (see the list in the program Kleopatra), it can be downloaded as zip file (fingerprint: 7CF5551F18F2D73473DE3C92FABB85A8FB26BCBD) and then imported in Kleopatra.
---
Included Translations:
Click on language to show desktop.
Note: If you feel that a translation could benefit from improvements or corrections, I would be pleased to hear from you. Anyone wishing to help will find information on how to proceed here.
---

In addition to the main program Personal Backup the installation file contains the following tools:
TbBackup: Backup of Thunderbird data
PbStarter: Run backups under a different account as protection against ransomware
PbPlaner: Create alternating backup schedules for execution with Windows Task Scheduler
PbRestore: Restore backed-up files or directories optional from alternating schedules
PbMon: Monitor selected directories for changes and start an associated backup as required
PbUninstall: Uninstalls the program with optional deletion of associated user files
---

In addition to the well-known features there are the following improvements:
New interface to the Windows Task Scheduler supporting the extended options available for Windows 7, 8 and 10
On backups into zip archives a maximum file size can be specified. Larger archives will be split into several files of the given size.
Optional encryption of filenames in zip archives (nor compatible to standard zip format)
An automatic backup at a specified time of day can be restricted to selected days of the week.
With backups at logon/logoff on selected days of the week, the option of catching up on missed starts can be disabled.
On executing external programs the program can optionally prompt for an elevation to full administrator rights (Windows User Access Control).
The preset value for new tasks concerning compression of files is user adjustable.
New option to restrict the backup to files with a modification date/time after the time of the last backup of the associated task.
New FTP option to use the IPv6 protocol
The new command line option /portable will automatically create an environment to start the program from a USB stick without leaving any traces behind on the PC.
The new command line option /elevate prompts on program start to run as administrator
On backups of directories located on an external drive and using the method Separate directories for drives the names of the subdirectories at destination will be built from the volume name (e.g. G:\Backup\Data-1\..) instead of the drive identifier (e.g. G:\Backup\DrvK\..) as used for fixed disks
Global preset for drive identifier
Sizes in bytes will be displayed using the prefixes recommended by IEEE 1541 (KiB,MiB,GiB)
New file header for non-compressed encrypted files containing the timestamp (remains compatible to previous versions on decryption).
Restore of non-compressed encrypted files (.enc) will restore original timestamps (e.g. for backups to FTP servers not supporting MFMT).
Several enhancements in detail and bug fixes
---

The program at a glance
Personal Backup is a program for saving personal data to any destination folder. This folder may be located on a local fixed or removable drive, on a Windows network server or on an FTP server. The 32-bit version runs under Windows 7, 8 and 10 (32- & 64-bit), Windows Vista, Windows XP and Windows Server 2003/2008(R2)/2012(R2), the 64-bit only under Windows 7, 8 and 10 (64-bit) and Windows Server 2008(R2)/2012(R2).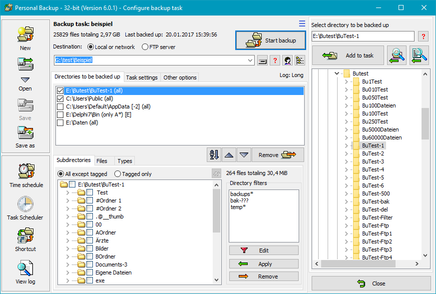 You can configure and store as many backup tasks as you wish. The selection of the files to be backed up is made on a by-folder basis. All subfolders are included automatically, but the user can exclude or include any subdirectories from or in the backup by selection or by filter. Additional criteria are the selection by file type, file age and/or file name filter.
At the destination folder the original drives (C:, D:, etc.) appear as subdirectories named LwC, LwD, etc. The original directory structure remains unchanged beneath these folders. All files may be compressed in gzip, either in toto or separated by subfolders as zip files. Optionally all data can be AES algorithm-encrypted.
Performing the backup can be done manually or automatically. During the backup the program checks whether the file to be saved is newer than one already backed up. Only new files and files with newer timestamps are saved. An alternate criteria is the archive bit of the files.
Automatic backups can be started on logon, at a selectable time of day, on logoff or on shutdown. You can make scheduled backups with destination paths changing daily or weekly.
For individual schedules it is easy to start a backup using the Windows Task Scheduler and the command line options of the program.
Note: Personal Backup cannot be used to save and restore system files.
The features in detail:
Wizard for the creation of new backup tasks
Unlimited number of configurable backup tasks
Backup of complete directory structures
Function to backup selected single files
Start backup on demand or run automatically
Backup of a single directory by one click using the context menu of the Windows Explorer
Backup via FTP (optionally with proxy and FTPS (FTP over SSL))
Many backup options:

Into single files: as direct copy or compressed using the gz (gzip) or the zip format

into a directory with drive identifier cloning the original directory structure (default)
do. without drive identifier directory
do. separated by root directory
do. into one directory without root directory

Into zip archives (optional split into files of a user defined size):

One zip file (supports files > 4GB)
One zip file per subdirectory
One zip file per root directory
One zip file per directory without drive identifier

User definable list of file types not be compressed (e.g. for files that are themselves compressed pdf, jpg, docx, odt)
Integrated function to use Volume Shadow Copies (VSS) on backup

Placeholders for date and other in target directory and zip filename
Many choices for files and directories:

Include or exclude selected subdirectories
Filter settings for filenames (optionally regular expressions), file attributes, file age and file size
Selection of file types: manually or using a filter mask, display for file types with sorting by name, count or size

File preview to check filter settings
Optional encryption using AES on backup (using the zip format will be compatible to WinZip)
Adjustable time gap for timestamp comparison in consideration of changes between winter and summer time
Running of external programs or scripts before and after backup
Optional synchronization of backup directories with source directories (alternatively before or after backup) using one of three modes
Optional creation of security copies: retain an adjustable number of previous versions of the backed-up files with selectable maximum age
Optional copy of files details (only NTFS) and permissions (only NTFS and network)
Optional backup and restore of junctions (only NTFS)
Optional restore of file permissions (only NTFS and network) and file details (only NTFS)
Optional password protection to prevent from overwriting of task file
Optional mail delivery after backup including short report and log file as attachment (also TLS)
Optional log file of all actions (e.g. backup and restore) with printout
Optional log of FTP and SMTP communication to debug connection issues
Function to delete old log files
Creation of desktop shortcuts to simply start selected backups, optional with subsequent shutdown, log off or hibernation

Internal backup schedules:

Up to 16 individually-configurable automatic tasks are supported at different times, on logon or logoff or once per week on logon
Different types of alternating backups: One full backup using the mode Copy or Full (new) in combination with several differential or incremental backups

Wizard for using Windows Task Scheduler for backups
Comprehensive command line options to automate actions e.g. using Windows Task Scheduler or batch files
Automatic check for updates on starting the program (to reduce the traffic on the download server, checking is made biweekly) or manually update
Internal restore function of saved files:

From backup into single files
From backup in zip files (single or separated by folders)
Dialog for selecting files for restore
Restore using FTP connection
Automatic decryption

Additional functions for verifying and cleaning up the backup
Many user definable program preferences
Languages: German, English, French, Dutch, Italian, Spanish, Portuguese, Hungarian and Russian
Other notes:
Personal Backup Version 5 is created using an IDE (currently Delphi 10 Seattle by Embarcadero) which has full Unicode support and overcomes the ANSI (ISO-8859) filenames limitations on copying files. Also path lengths may be longer than 260 characters.

The most important enhancements in that respect:
Display file and directory names using other than ISO-8859 characters (e.g. Greek or Cyrillic)
Backup such files as gzip and zip
Backup such files via FTP provided that the server supports UTF-8
Mail delivery in UTF-8 format
Save, restore and delete files with path lengths > 260 characters
Windows 98/ME are no longer supported. Users of these systems can download the legacy version 4.5
---

Version 5.9.5.3:
Download
32 bit version (2020-03-01)
Notes on installation: An already installed 64-bit version should be removed prior to installing this version. All backup tasks and the ini file with the settings for automatic tasks can be used unchanged.

Windows setup (16.7 MB) - OpenPGP signature*


Checksums (MD5 and SHA256)

MD5: fc455f776483b7be9e72a737b50e463b
SHA256: d5fcabd0425d6037d196e06ca55ac55ba73dba874b024f2ff89723e839a7a8a3

Zip file for update or portable Version (see here)

64 bit version (2020-03-01)
Notes on the installation of the 64-bit version: An already installed 32-bit version should be removed prior to installing this version. All backup tasks and the ini file with the settings for automatic tasks can be used unchanged.

Windows setup (18.0 MB) - OpenPGP signature*


Checksums (MD5 and SHA256)

MD5: 6750dcdbc7d352679c11c47d3f12d5c8
SHA256: d5b10be3127e6a3e0f3991a51c4f0002b9d70a61ddd49a245401a5232da6a6a1

Zip file for update or portable Version (see here)

Previous versions Older versions
More Information about version 5
Languages: English, German, French, Dutch, Italian, Spanish, Portuguese, Polish, Hungarian and Russian
---

Of late, ever more download sites make freeware programs available not in their original version but with modified installers or using download managers. The latter can be recognized by their relatively small file size (mostly about 500 kB) and in either case the user may run the risk that additional, unwanted programs, such as browser toolbars and adware or spyware, will be installed without warning. Subsequent removal of this software often turns out to be very difficult.
To avoid any tacit support of such unfair practices, I have removed all links to download sites offering anything other than my original setup files.
---

Version 5.8.10.6
The former version can be downloaded from here:
Download version 5.8.10.6 (2017-08-22):
Version 5.7.4.2
The former version can be downloaded from here:
Download version 5.7.4.2 (2016-04-18):
---

Further information
Compressing as gzip
The existing standard for the gzip format (RFC1952 of 1996) calls for the filename to be stored in the file header using the ISO-8859-1 character set. I could not find any recommendations as to how to handle Unicode filenames.
The current Linux version of the program gzip used for creating and reading gz archives differs from the above standard and stores filenames in UTF-8 format. The OS byte in the header is set to 3 (Unix).
Until version 4, Personal Backup has set this byte to 0 (FAT) and saved the filename per ISO-8859-1. To be compatible with previous versions and also to support Unicode, two variants are used in Version 5:
The filename consists only of characters contained in ISO-8859-1: OS = 0 (FAT) => Filename is stored in ISO-8859-1
The filename also contains other characters: OS = 11 (NTFS) => Filename is stored in UTF-8
Hence the problem arises that other programs (such as WinZip or WinRar) will correctly detect the stored filename only with the first variant. This has, however, no effect on the unpacking of the files.
It would of course be better to use one of the unused bits the FLG byte as a criteria for the coding of the filename. The current zip format does it in this way (see below).
Creating zip archives
The current zip format specification version: 6.3.3 dated September 2012 defines how Unicode filenames are to be processed: if bit 11 of the "general purpose bit flag" is set, filename and comment are in UTF-8 coding. Personal Backup uses this convention. Unfortunately not all file-compression programs currently support this new format. Among those that do are WinZip 12, 7-zip 9.20, IZArc 4.1.6 and WinRar 3.80, whereas Windows Explorer does not yet support the new format even under Windows 7.
Passwords
All passwords for FTP, for SMTP and AES encryption must be coded per ISO-8859-1.
Length of file paths
For filenames (inc. path), the 260-character limitation still applies to certain Windows versions (more info). This limitation appears no longer to apply first of all under Windows 7. Under older operating systems, e.g. XP, all applications using Windows shell components, such as Explorer, cannot process longer file paths.
Everywhere where Personal Backup refers to shell components (e.g. in a directory- or file-selection dialog), the path length limitation applies even for Version 5 except with Windows 7 and newer.
Internally, the program uses UNC paths (e.g. when copying files) which may have a maximum length of about 32000 characters. With Version 5 it is therefore possible to backup, restore and delete files with paths exceeding the above limit, even when many file managers (including Windows Explorer) will fail on scanning such a directory tree. One file manager that supports long filenames is Total Commander Version 7.5 .
---

Version 4.5
Version 4.5 works with all current Windows systems and Windows 98/ME. It supports only the West European character set (ISO 8859) and pathnames up to 260 characters.
Note: There will be no further development of this version! Version 5 is recommended for use with current operating systems. Version 5 may be installed alongside version 4.5. The old tasks and settings will largely be inherited.
Download Version 4.5.5.1 released 2011-04-15
Windows setup (5.54 MB)


(MD5: fb71c5e5a671f3c75066bb8f7e8de3f9)

Update as zip file
Release notes (only German)
---

Utilities
This package contains programs useful for automating backup processes and to rescue data from damaged zip archives.

WinTouch (Version 2.0 - July 2020)
The Linux Touch command allows the creation of files and the modification of file timestamps. WinTouch is a command line tool providing these function on the Windows platform. The syntax of the options is modified slightly and adapted to Windows conventions. The number of specified file names or paths is not limited. Each must be separated by a space. If a file path itself contains space , it must be enclosed by quotation marks. Each option is identified by a leading "/" or "-" character. If a file does not exist, it will be created.


Calling the program:
WinTouch [options] file1 [file2 [file3 ...]]
file1,file2,...
Names of files to be processed (may include full paths)
/cwa
Select the timestamps to be modified: c = create, w = last write, a = last access (default = w)
/r
Transfer the selected timestamps from the reference file1 to file2, file3, ... (reference)
/b:n
In connection with option /r, subtract n seconds from timestamp of reference file (back)
/f:n
In connection with option /r, add n seconds to timestamp of reference file (forward)
/d:[[YYYY]MM]DD
Set selected timestamps of file1, file2, ... to a fixed date
/t:hh[mm[ss]]
Set selected timestamps of file1, file2, ... to a fixed time
<none of r,d,t>
Set selected timestamps of file1, file2, ... to the current date and time

Wait
Insert this program into your batch file to wait for a specified time (in s): e.g. Wait 2
CheckFile (Version 2.0 - September 2017)
The program checks if a file has set some selected attributes or is locked by another application. This check can be done before starting a backup to ensure that the backup will run without any problems. Calling the program:
CheckFile <filename> [/wait:<n>] [/attr:<RHS>]


filename : name of file to check (including the full path)
/wait:<n> : wait for n seconds before checking the file
/attr:<RHS> : attributes to be checked (any combination) (R = read-only, H = hidden, S = system file)
without option /attr : check if the file is locked

The program generates an ExitCode which can be checked in a batch file using the command if errorlevel .. or by any calling program:
ExitCode = 0 : the specified attributes are not set or the file is not locked


= 1 : The specified attributes are set or the file is locked
= 2 : the specified path does not refer to a file
= 3 : no parameter were specified

Examples:
CheckFile "C:\Windows\WindowsShell.Manifest" /attr:rh


Returns ExitCode = 1 if the attributes "read-only" and "hidden" are set for the file, otherwise ExitCode = 0

CheckFile "E:\Thunderbird Mail\parent.lock" /wait:5


Will wait for 5 seconds and then check if the specified file is locked by a running Thunderbird application (ExitCode = 1), otherwise ExitCode = 0

SetExitCode
Insert this program into your batch file to set the ExitCode (read from batch command if errorlevel ..) to a specified value and to overwrite any exit codes from applications called beforehand: e.g. SetExitCode 5
Eject
This is a small, free program to open the tray of your CD/DVD/Blu Ray drive from a batch file.
A short manual by WebGeek, Inc. is included.
Checkdrive (Version 3.0 - September 2017)
You can use this program in a batch file to check whether a removable drive (e.g. USB or CD burner) is available or not.
Note: With Personal Backup 5 it is no longer necessary to start this program as external program before backup, as its function has been integrated into version 5.
Calling the CheckDrive program:
CheckDrive <Drive|Volume> [/prompt] [/user:name|pwd]


<Drive> : Destination drive to be checked for
<Volume> : Volume name of a destination drive
/prompt : Prompt the user to insert a medium
/user:name|pwd : Network logon name & password

The program generates an ExitCode which can be checked in a batch file using the command if errorlevel .. or by any calling program:
ExitCode = 0 : OK

= 1 : drive not available

ShowVol (Version 1.0 - May 2018)
Calling the program from the command prompt will display a list of all connected drives. The following items will be displayed for each drive:

Internal device name
Volume GUID of in the format \\?\Volume{GUID}
Mount point (drive letter)
User-specified volume name

Example:
Device name: \Device\HarddiskVolume3
Volume GUID: \\?\Volume{f2dea506-d100-11de-815a-806e6f6e6963}\
Mount point: C:\
Volume name: System

Drives not mounted (hidden drives) have no drive letter assigned. To address such drives in Windows Explorer, you can use the Volume GUID instead.
Example: \\?\Volume{f2dea506-d100-11de-815a-806e6f6e6963}\Windows\System32
In addition the program can be used to determine the drive letter or, if the drive is not mounted, the Volume GUID associated with a given volume name.

Example 1:
ShowVol System
"System" is mounted as "C:\"
Example 2:
ShowVol HiddenPart
Volume "HiddenPart" is available but not mounted
Volume GUID: \\?\Volume{xxxxxxxx-xxxx-xxxx-xxxx-xxxxxxxxxxxx}

SplitZip (Version 2.6 - October 2020)
This program splits a large zip archive into several small files. The maximum size can be set. Each split file is a fully-functional zip archive.
Without any command line parameters, the program starts in interactive mode. To use it for batch processing, the command line must contain at least the name of the zip archive.
Command line parameters:
SplitZip <ZipName> [Directory] [Size] [/quiet]

ZipName : Name of zip file to be split
Directory : Location for split zip files (default: Temp)
Size : Maximum size of each split file in MB (default: 700)
/quiet : Do not show progress status

The program generates an ExitCode which can be checked in a batch file using the command if errorlevel ..:
ExitCode = 0 : OK

= 1 : Zip file not found

= 2 : Destination directory could not be created

= 3 : At least one file in the archive is larger than the maximum size

UnZip (Version 2.6 - October 2020)
Use this program to restore data from damaged zip archives. It scans a zip archive without using the directory. All recognized files can be extracted. The program can also be used on encrypted archives and even on archives with encrypted filenames. A test of integrity of the compressed files can be made on scanning.
Plugin for WinMerge
This plugin allows gz, gze and enc files generated by Personal Backup during backup to be unzipped and/or decrypted and displayed with WinMerge.
This facility is very useful if you wish to check the differences between a backed-up text file and the current version prior to a Restore. The Restore function of Personal Backup offers the option of using WinMerge for this purpose. If files have been zipped and/or encrypted during backup such a comparison is not directly possible. The plugin will unzip and/or decrypt these files automatically prior to loading them into WinMerge. Files with extensions other than gz or enc will be loaded by WinMerge directly.
Installing the plugin
Create a subdirectory MergePlugins in the installation directory of WinMerge and copy the file PbUnpack.dll from this package into that subdirectory. Select the option Unpack automatically in the Plugins section of the WinMerge main menu. On loading, WinMerge will recognize, and automatically unzip and/or decrypt and display all gz and enc files.
Personal Backup for BartPE
There is a plugin to integrate Personal Backup into a BartPE environment. Using this system you can create a bootable Windows XP CD to access the system drive in emergency cases (e.g. to recover data).

Tools for USB drives

On Uwe Sieber's webpage you will find several very useful tools to mange USB devices like drives or sticks:

Downloads

---

---

Many thanks to Jim Scharfenberg Jones for proofreading my English

---

| | | |
| --- | --- | --- |
| | Visitors since 2007-02-09: | |